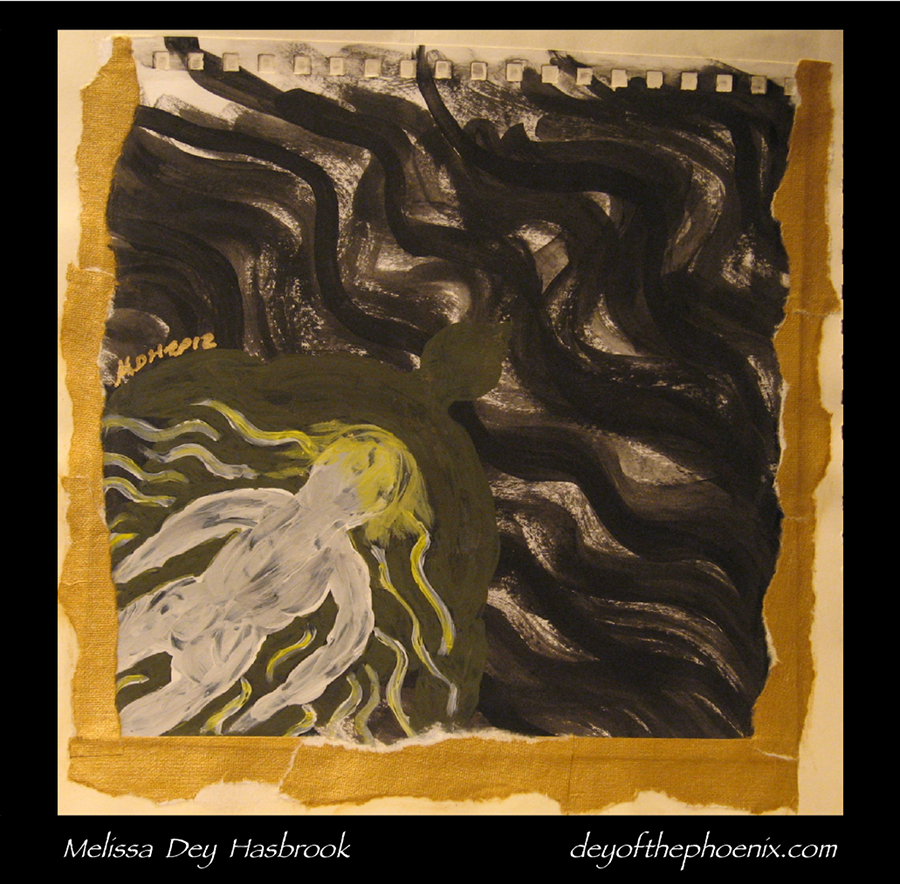 Sitting on the floor, eyes closed, I am encircled by paint, brushes, paper. "Where am I?" is the question of my heart. Images emerge . . . deep dark waters, constantly rocking . . . a body of white light swims forward,  embraced by the back-and-forth flow.
I open my eyes, reach for colors to paint these waters, undulating like countless black snakes. Then the radiant body, who is me braving a mysterious sea. While painting, I see another figure: Turtle. She guides me, protects me, and knows this ocean.
The painting dries, and I paste it onto a larger sheet,  framing the image with pieces of torn golden paper. The pieces take on a new shape and purpose — partly safeguard, partly container — for a vulnerable process.  This is transformation of the most intimate kind . . .
Three months ago, I began the intentional work of partnering the creative and healing arts. This painting was the partnership's first expression, symbolizing how I pictured myself about to dive into the process.  All five paintings from the project share a background of "dark waters", which I came to understand as representing trauma or  rather — as framed by resources on the topic — memories of trauma.
The process started on retreat at Crow's Nest Center USA accompanied by the Vision Journal: a scrapbook with select entries of mixed-media collage by artist Altered Attitude. The imagery and quotes resonated my pursuit of healing work and making art, offering a home of sorts for snapshots of the process. Yet what transpired was much more than affixing keepsakes into a ready-made binder.
The Vision Journal became a vehicle. I removed the spiral binding and began moving around the pages, exploring symmetries between its story and this healing journey. My paintings synced with messages from Altered Attitude, offering guideposts across the passage of pages.  The endeavor is culminating as book art — or an artist's book — sequencing poetry, mixed media, and collage.
In anticipation of the book's completion, I will be making briefer posts about its contents and/or process throughout March. The project is in its concluding stage, with collages choreographed for final placement and the ultimate act of binding it all together. This work will debut at Lansing's Take Back the Night art exhibit.
The exhibit will be open most weekdays in April at the LookOut! Gallery, Snyder-Phillips Hall (Residential College in the Arts and Humanities), second floor, Michigan State University.  The opening reception is Wednesday, April 3, from 10am to 2pm.  You are most welcome to join me and the other artists from the show!