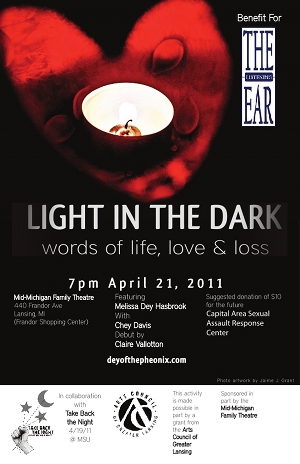 Updated April 6, 2011.
Check out the event listing on Facebook!
Learn about guest artists and community partners in this post (April 6)!
PRESS RELEASE
Local Writers Benefit Future Sexual Assault Center
Lansing, MI – March 24, 2011. "Light in the Dark: Words of Life, Love, & Loss" takes place April 21, 2011, at 7:00pm at the Mid-Michigan Family Theatre, 440 Frandor Avenue, Lansing. The event features Melissa Dey Hasbrook (The HerStories Project), spoken-word artist and poet performing from her upcoming book Circle Home. Guests include Chey Davis (Delta College), Lansing native and author (Bad Dog Behaviour; Collection); and Claire Vallotton (Michigan State University), a recent mid-Michigan transplant making her literary debut. The event benefits The Listening Ear Crisis Intervention Center, with the suggested donation of $10 earmarked for its future Capital Area Sexual Assault Response Center. "Light in the Dark" is a collaboration with Take Back the Night, an annual campaign that speaks out against sexual violence. This activity is made possible in part by a grant from the Arts Council of Greater Lansing. For more information about the event, visit the website deyofthephoenix.com, email melissahasbrook @ gmail.com, or phone (517) 374-6474.
Melissa Dey Hasbrook
melissahasbrook @ gmail.com
(517) 374-6474
###