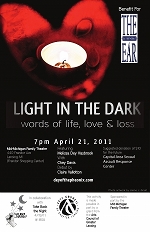 My first feature performance for 2011 is scheduled for April 21 at 7:00pm, "Light in the Dark: Words of Life, Love, & Loss."  The venue is the Mid-Michigan Family Theatre, 440 Frandor Avenue in Frandor Shopping Center of Lansing, thanks to its donation by Director Bill Gordon. I will give spoken-word renditions from my forthcoming book Circle . . . Home, a collection of poetry and prose rooted in mid-Michigan. The Arts Council of Greater Lansing recently awarded me an emerging artist grant (more about that soon!) to support this publication and related events including "Light in the Dark".

The Listening Ear Crisis Center, which in 2010 moved from East Lansing to Lansing's Eastside, benefits from the event. The suggested donation of $10 is earmarked for TLE's future Capital Area Sexual Assault Response Center (CASARC), a project several years in the making by advocates and agencies across the community. TLE kicks off the final leg of fundraising to complete this project on April 19 with the aim, as I understand it, to open the new center by 2012 at the latest.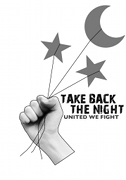 Michigan State University's student-led campaign Take Back the Night is a partner of "Light in the Dark". TBTN organizers contacted me about putting together a poetry event during Sexual Assault Awareness Month, and this event is a result of our collaboration. TBTN kicks off April 11 with a film series and culminates on April 19 with day-to-night events on campus. Visit their Facebook page for more information.
Also joining "Light in the Dark" are guest artists connected to the greater Lansing area: Lansing native Chey Davis (Delta College) and recent mid-Michigan transplant Claire Vallotton (Michigan State University). Chey Davis has written two collections of poetry (Bad Dog Behaviour; Collection), and has been a purveyor of Social Justice through the guise of teaching English for nearly 12 years. She rotates her life around the centering influence of motherhood and all that that entails. She lives with two little girls and a dream in Saginaw, Michigan.
Claire has been writing fiction and poetry since she learned how to hold a pencil, but to date has published only science. She loves exploring different genres and voices in the process of writing, and her goal is to be posthumously famous as the most eclectic writer in history. In addition to a diverse collection of short stories, she is currently working on the biography of her childhood on the Lost Coast of California. "Light in the Dark" marks her literary debut.
Let us know you plan to attend "Light on the Dark" through Facebook!