Press release available below flyer. Also read the blog post "Celebrating Turtle Island" (June 3, 2011) and the City Pulse's "Sharing Michigan Memories (June 2, 2011)."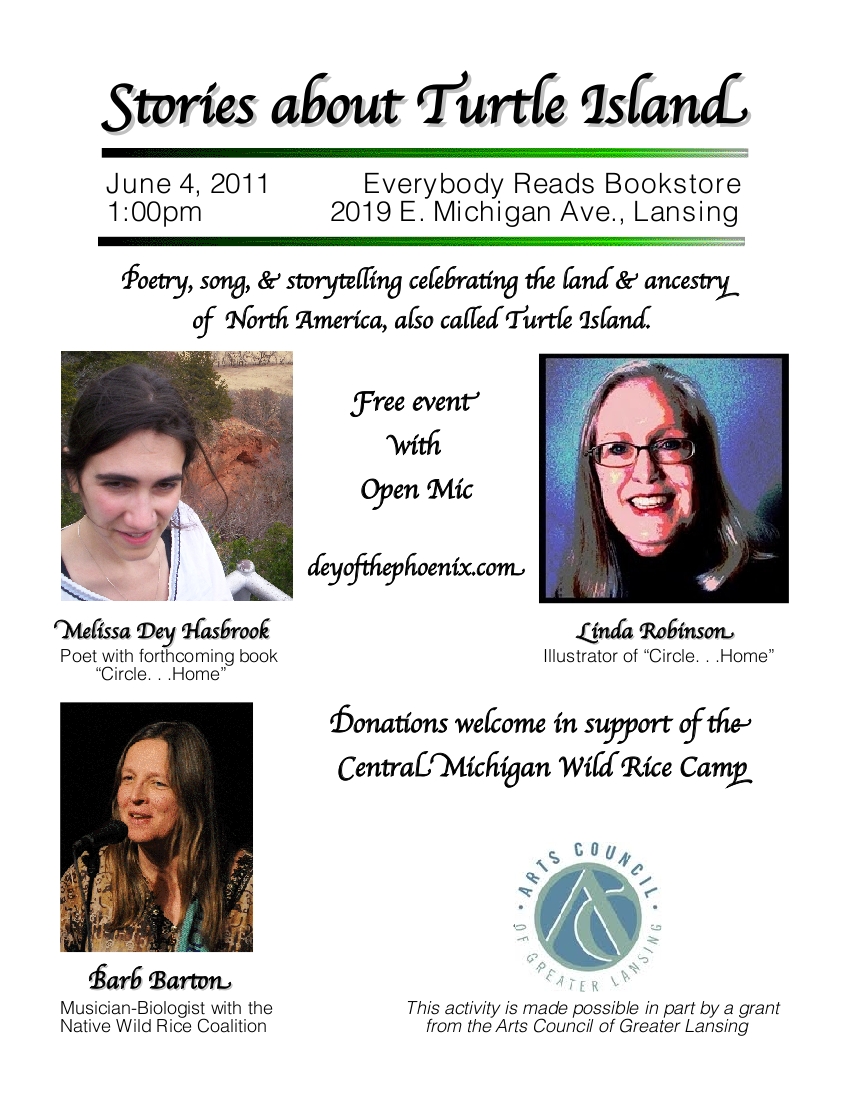 Corrected May 22, 2011.
PRESS RELEASE
Artists Celebrate Turtle Island with Open Mic
Lansing, MI – May 18, 2011. "Stories about Turtle Island" takes place on June 4, 2011, at 1:00pm at Everybody Reads Bookstore, 2019 E. Michigan Ave., Lansing. The free event celebrates stories about the continent of North America – also called Turtle Island – with poetry, storytelling, and song. Poet Melissa Dey Hasbrook (The HerStories Project) pays tribute to the land and ancestors who inspire her forthcoming book "Circle . . . Home". Illustrator Linda Robinson shares an encounter with Painted Turtle while collaborating on Hasbrook's book. Musician-Biologist Barb Barton (Native Wild Rice Coalition) sings and tells how Hummingbird became part of the logo for the Central Michigan Wild Rice Camp. An open mic is offered in spirit of the event. "Circle . . . Home" will be sold at a pre-printing discount in anticipation of its fall release. Donations are welcome in support of the Central Michigan Wild Rice Camp. This activity is made possible in part by a grant from the Arts Council of Greater Lansing. For more information about the event, visit the website deyofthephoenix.com, email melissahasbrook@gmail.com, or phone (517) 897-5833.
Melissa Dey Hasbrook
melissahasbrook@gmail.com
(517) 897-5833
###