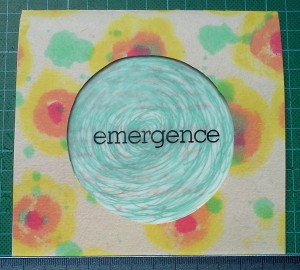 Updated 31 August 2015.
This limited-edition (130) book art contains poetry from my 2014 performance season. Handwritten and pamphlet-stitched, the work features inner hand-cut and -inked circles, with covers of handmade pulp-painted paper and letterpress print.
Emergence: Book Art embodies healing as poetry inspired by sacred experience. Tangibly, circles of various compositions serve as portals throughout the journey.
Checkout photo albums of Emergence: Book Art on my Facebook artist page:  composition of the book art (I) and gallery of hand-painted paper (II). The process for making each edition is rather time intensive, and the completion of all 130 will reach well into the future!
Emergence: Book Art was first released 18 October 2014, and currently its productionis on hiatus.
~~ Background:  In tandem with the publication of Dear Sister (AK Press), I returned in early 2014 to public work after a 1.5-year hiatus.  These poems were the heart of the winter-to-spring season, including a performance with percussionist Nicholas Brabhan at Greater Lansing's Take Back the Night (April).