Greetings on this sunny morning! The early light glows over the greening grass. It's a sight that warms my heart here in Kalamazoo after a week in Lansing. During my visit, I performed as the featured artist of Take Back the Night of Greater Lansing with percussionist Nicholas Brabhan. The experience was uplifting from inside a room at the MSU Museum that generated the intimacy of our collaboration Emergence. Thanks to those who supported these Lansing appearances in person and spirit! Video from TBTN will be forthcoming.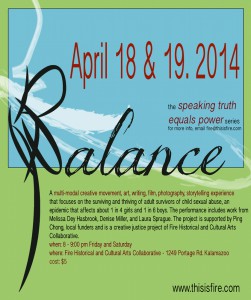 In Kalamazoo this week, I am in a group performance titled Balance. The multimodal program incorporates visual art, poetry/ spoken word, and movement. My co-performers are Denise Miller, co-founder of Fire Historical and Cultural Arts Collaborative and current board member; and Laura Sprague of Kalamazoo. We are presenting this artistic exploration of healing to the public as adult survivors of childhood sexual violence. The two showings at 8:00pm on Friday April 18 and Saturday April 19 at Fire — for just $5 at the door — are a culmination of our meetings since August 2012. It is unlikely that this performance will be recorded, so join us for the live event and also to take in the accompanying exhibition at Fire with our art work.
It's a very intense week, as you might imagine, between the debut of Emergence to the eight-month-delivery of Balance. I am extremely grateful for the encouragement of loved ones and hearing how persons from these programs are inspired. My deepest respect to each of you who extend care and a part of yourself as I endeavor forward in the creative-healing arts. Whether it is that pep-talk over dinner or your smiling eyes meeting mine when I am on stage, I experience that connection as a thread of the great web of life. It is such a gift to share this web with you. Let's "spider" on together!