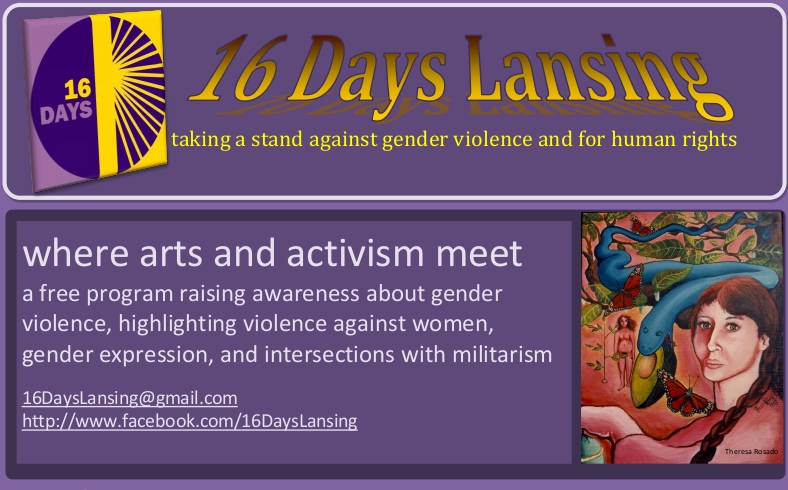 In the past month, it was an honor to be part of of 16 Days Lansing, a program inspired by the international campaign 16 Days of Activism Against Gender Violence initiated in 1991 by the Center for Women's Global Leadership at Rutgers University. A photo album for the program is available on Flicker, and the press release provides details about the events and themes.
The organizing team with whom I collaborated brought together a breadth of community groups and individuals, survivors of gender violence as well as advocates. Art served as our medium and balm, creativity invigorating our journeys of healing and activism. Many thanks to my teammates Karen Bota, director of The Leaven Center; Laurie Hollinger, intern at Center for Poetry (MSU RCAH); and Sandra Cade of Intercultural Communications. And many thanks to our co-promoters and the artists who shared their gifts throughout the program (see the press release).
At the closing event "A Night of Remembrance", an arts exhibit of rich powerful pieces came together, reclaiming what violence steals, celebrating the strength of the human spirit and the feminine (see photos).  I tabled alongside community groups, displaying a gilded cage topped by a dazzling butterfly, whose wingspan exceeded the width of the golden bars.  My invitation to passersby read, "What's your 'word' (thought) on transformation and healing?", with the promise to publish the responses on my blog.
Here's "the word" from those who wrote on the cards. Consider, what shape does healing and transformation take for you? Your continued sharing is most welcome…
Trust . . .
~ ~ ~
BUILDING CLOUDS, FORMING –
WIND RISING
THUNDER
LIGHTNING
RAIN
SUNSHINE
…..AND MAYBE A RAINBOW
…………………….SURPRISE  🙂
~ ~ ~
Transformation: choosing not to live in the past.
~ ~ ~
ONCE UPON A TIME THERE WAS A SAD + LONELY WOMAN. SHE HATED HER LIFE. SHE WAS TIRED OF HER ANGRY USELESS HUSBAND + DECIDED TO DO SOMETHING. SO SHE GOT ON A BUS + WENT FAR, FAR AWAY WITH A BABY ON HER LAP + WHAT LITTLE ELSE SHE COULD CARRY. AND SHE GREW TO APPRECIATE PEACE + FRIENDLINESS. AND BEFORE YOU KNOW IT HER ANGRY VIOLENT OLD HUSBAND + LIFE FADED AWAY.
~ ~ ~
Kali must destroy the old to make way for the new. This is the time of the year to being anew. ~Judith