Recently, Dey of the Phoenix has been a quiet blog, due to the abundant fullness of my life.  This month I am the featured artist of the Arts Council of Greater Lansing, and an article by Dawn Gorman speaks to my current work and journey as a writer; click here to read the piece.
TAKE BACK THE NIGHT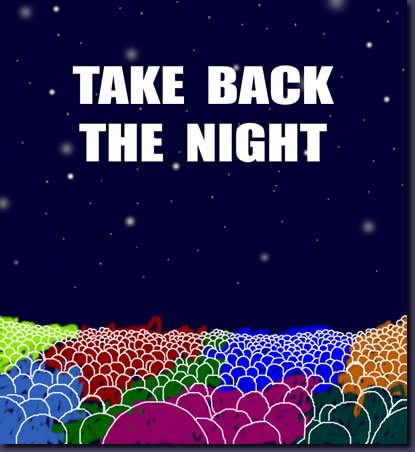 In part, I am preparing for Take Back the Night of Greater Lansing, an annual campaign for survivors of sexual violence and our allies. It's my honor to be TBTN's featured artist this year.  The full day and night of programming takes place April 17, on the campus of Michigan State University. My contributions are threefold:

From 3:00-4:30pm in the Womyn's Council room, fourth floor of the Union Building, I facilitate "Words & Afterwards: Collage Workshop about Sexual Violence and Healing."  Materials are provided. The session is open to survivors and allies, and participants have the option to take part in an upcoming art exhibit, which is described below in this post. The volunteered collages will be collected into book art and later gifted to the MSU Womyn's Council, which historically has organized TBTN in our area.
I emcee the Speak Out at 5:15pm on Beaumont Field (near Beaumont Tower), a time during which survivors are invited to share our stories — the good, the bad, and the ugly. Allies are welcome to bear witness. The segment is a safe space for voicing our experiences and healing visions.
Following the Speak Out, I perform with the improv band Headz during the Pre-March Rally, which begins around 7:00pm. Since the Speak Out is a time-flexible segment, the performance may begin within a half-hour earlier or later. The Pre-March Rally also takes place on Beaumont Field.
Note: For those who are new to TBTN, events on the field are not seated, so please BYO chair, blanket, or mat if so needed. Also, in the case of inclement weather, field events are moved to the lounge of the Union Building.
WORDS & AFTERWARDS
And more adventure! My community-arts collaboration Words & Afterwards also has made recent weeks fly by. Over the past month artists Kathryn Darnell, Jen Loforese, Gail Trapp-Bohner, and myself have continued to transform collages by community members into book art.Joining us were former workshop participants who created the collages and Peace Education Center members. Visit my Flickr photostream to see past workshops in action!  The PEC obtained a mini-grant from the Michigan Council for Arts and Cultural Affairs, allocated by the Arts Council of Greater Lansing, in support of this project.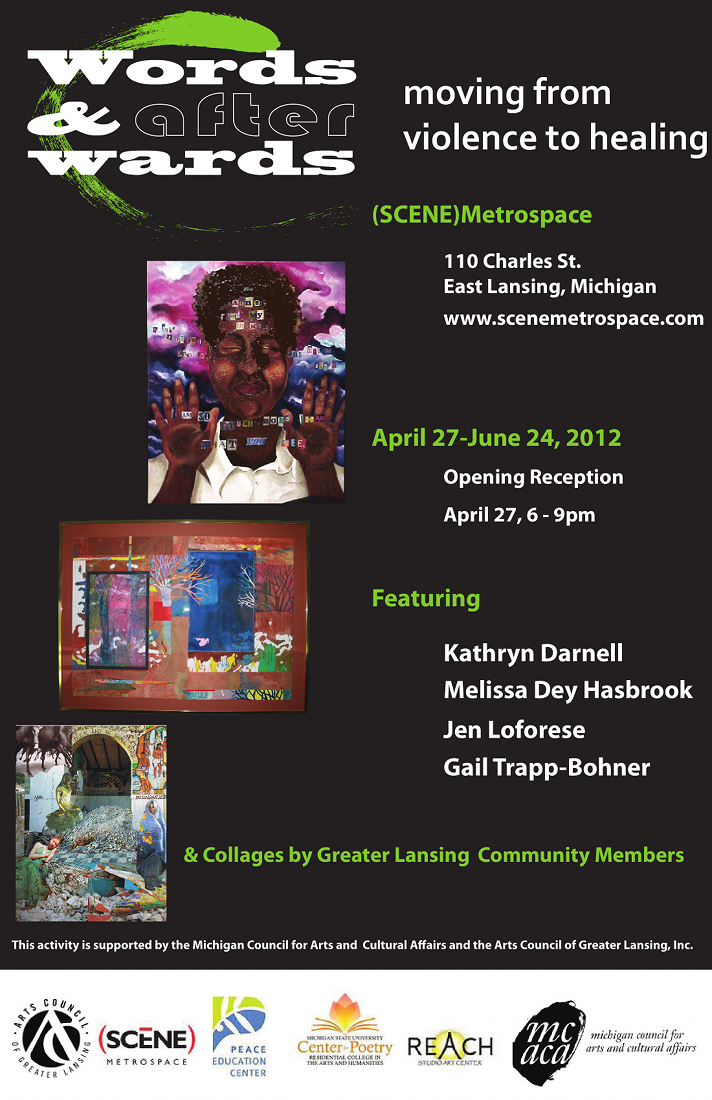 Alongside we featured artists, the book art will be exhibited at (SCENE) Metrospace in "Words & Afterwards: Moving from Violence to Healing", opening April 27 from 6:00-9:00pm, through June 24, 2012.  After the exhibit, the book with collages by REACH Studio Art Center's Teen Studio will be gifted to the Peace Education Center, while the book with collages from public workshops will be gifted to the MSU Sexual Assault Program.
DotP readers, I hope to see you at one or more of these upcoming events! As I announced earlier this year (see "Greetings for 2012"), my hiatus from event organizing means that I will be working outside of public programs for some time to come.  April's event — TBTN and Words & Afterwards' exhibit opening — are steps in my new creative direction focusing on healing, which I look forward to continue sharing through the web site. Thanks again for your past and ongoing support. May your day be lively!