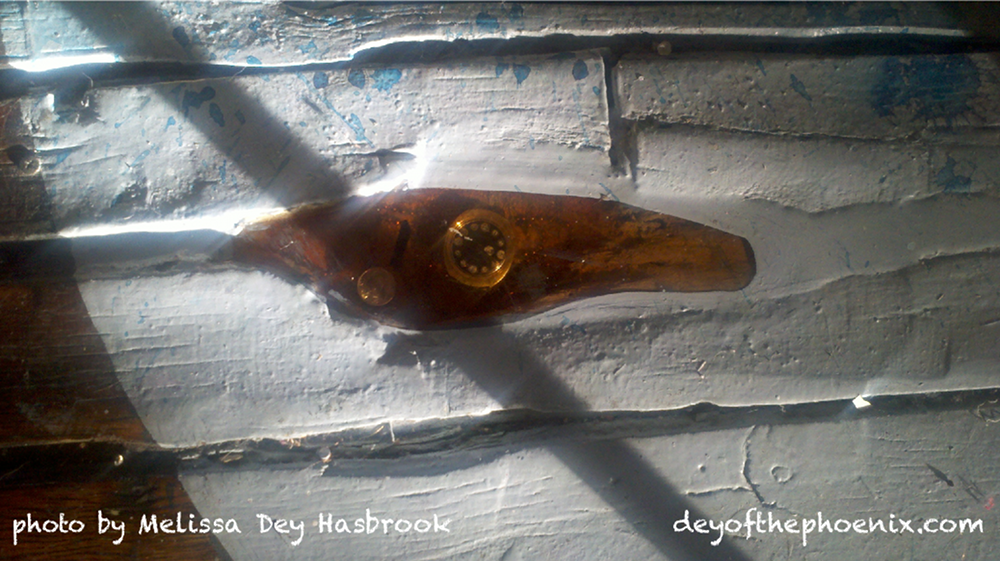 While exploring the group studio that I recently joined in Kalamazoo, Michigan, a surprise caught my eye. A gap in the floor board was smoothed over by a transparent filler encasing a watch.  The timepiece may be understood as memory frozen though present, and how distinguishing the past from the now can be a physical challenge.
This insight resonates with the material on trauma that I began in December, like Healing from Trauma: A Survivor's Guide …. (Cori and Scaer).  The physical sensation of being frozen — or immobilized — is characteristic of traumatic response. Distancing past trauma from present patterns of interacting is a way to transform such reactions. Ultimately, the goal is to release a web of associations bound up in those reactions (see "Along came a spider…"), which takes residence in the body.
The transformation is no easy task, as straightforward as it may sound! (See recent posts for my experiences: "The Poseidon Adventure", "falling apart", and "Along came a spider…".) But the creative arts are a way to keep balance amidst the bumps and, also, a means to map the road of recovery during the healing journey. An excerpt from a recent journal entry conveys how book art serves my journey (the ellipses as part of the original, rather than omitted, text):
The book art is a way to process the experience, as I take steps to change. In one sense, it is a document, but really it is more a map … maybe even an atlas, with multiple maps. I am exploring routes of healing, making "in-roads" into "unknown" territory … So maybe it is an explorer's journal … notes on a journey … over the edge of the world. (Jan. 8, 2013)
"…over the edge of the world," being the world as known for the moment, a knowing knit together by past traumas that I strive to release from my present-day body.  Yet another way to frame the process: engaging traumatic memory is like waking a tiger (Peter Levine, Waking the Tiger), and releasing the memory may be akin to taming it.
A word on mapping: I first encountered it as a technique for putting ideas into relationship as a composition student (see "Mind Map"), and put the approach to use as an educator. Mapping is engaged in another way at Crow's Nest Center for Shamanic Studies, which I understand as exploring mythologies and archetypes to orient the healing process (see "Jungian Archetypes").
Upon reflection, what modern folks call "mapping" I recognize in ancient cave paintings:  images placed in relationship as a way to make sense of human story.  My current project of book art is unfolding as such a story around the theme of healing trauma.  The maps and "timepieces" cross-talk, conveying individual and collective expressions.  Samples of work-in-progress will keep coming, Readers, so be sure to stick around!
For those in Greater Lansing — plus those who travel — please join my invited presentation for the Lansing Poetry Club, Sunday, January 20, 2:00pm, at the MICA (Michigan Institute for Contemporary Art) Gallery, 1210 Turner Street, Lansing, 48906. I am sharing new work and making a brief "visit" with my collection Circle…Home (2011).
~Aside: You may have caught the film reference Somewhere in Time (1975) in the blog title. The story follows a man whom through a series of  linked events/ moments/ associations — including a pocket watch gifted by a stranger — succeeds to travel to the distant past to meet the woman he loves.