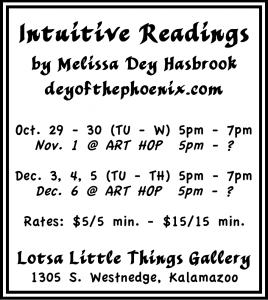 I'm excited to announce a new happening! I start giving Intuitive Readings at Lotsa Little Things Gallery in Kalamazoo, where my art studio now is located. The walk-in times for October to December offer short readings of five or fifteen minutes with themed Tarot decks and oracle cards. For longer readings, I'm available by appointment; please email MelissaHasbrookATgmailDOTcom.
My approach to Intuitive Readings draws upon experience and knowledge, without limiting responses to a particular formal system like traditional Tarot. I rely on intuition — that gut-driven, inner voice — to inform the use of tools and whatever words may be spoken. Tools range from physical objects to metaphysical resources. A reading may begin with themed Tarot, and lead to consulting Western astrology or symbolism of animals. In sum, a variety of studies and life stories serve as a resourceful web for a given reading.
Since 2007, working with intuitive tools has informed my creative work and healing process, bringing them into closer alignment. Shortly before that time, I left academe in pursuit of a heart-led life. By "heart-led", I mean honoring that gut instinct also called the inner voice. My willingness and skill to listen to the heart improves with each stumble. And I'm grateful for the significant support of teachers, circles, and communities throughout this process.