With April around the corner, days warm and "season greeters" pop-up through the not-yet-green landscape. At my new home-ground in Kalamazoo, I await for who appears. Thanks to Mildred, who tended the plant-life between the 1940s and 2010s, perennials are making themselves known.
With watchful eyes, I discovered a rock-laden pathway hidden by sod. The excavating of  flat squarish stones has begun! In this case, what lies underneath is predictable — or so it seems. I am reminded of life as art, and contemplate this season's combined lesson of rising up and digging below.
Rising up and digging below. These parallel actions resonate recent months in my community-arts collaborations in Lansing and Kalamazoo, Michigan. Early spring is a time of debut for these interdisciplinary projects, and I look forward to meeting you anew at upcoming events. Thanks for your company on the journey of creative-healing arts!
Art Hop, Friday, April 4, from 5:00pm to 7:30pm at Fire Historical and Cultural Arts Collaborative, Kalamazoo. The exhibition is by project s.t.e.p. — speaking truth = power. I'm showing new work along side my artist book The Vision Journal.

"Emergence: An Intimate Performance" brings together poetry, percussion, movement, and visual art as healing tools. The interdisciplinary and interactive experience is designed for small audiences. I perform with percussionist Nicholas Brabhan (South Bend, IN) in Lansing on April 13 (Facebook listing here), and in Kalamazoo on May 3. Please register by email, MelissaHasbrook@gmail.com, or phone, 313.389.6866.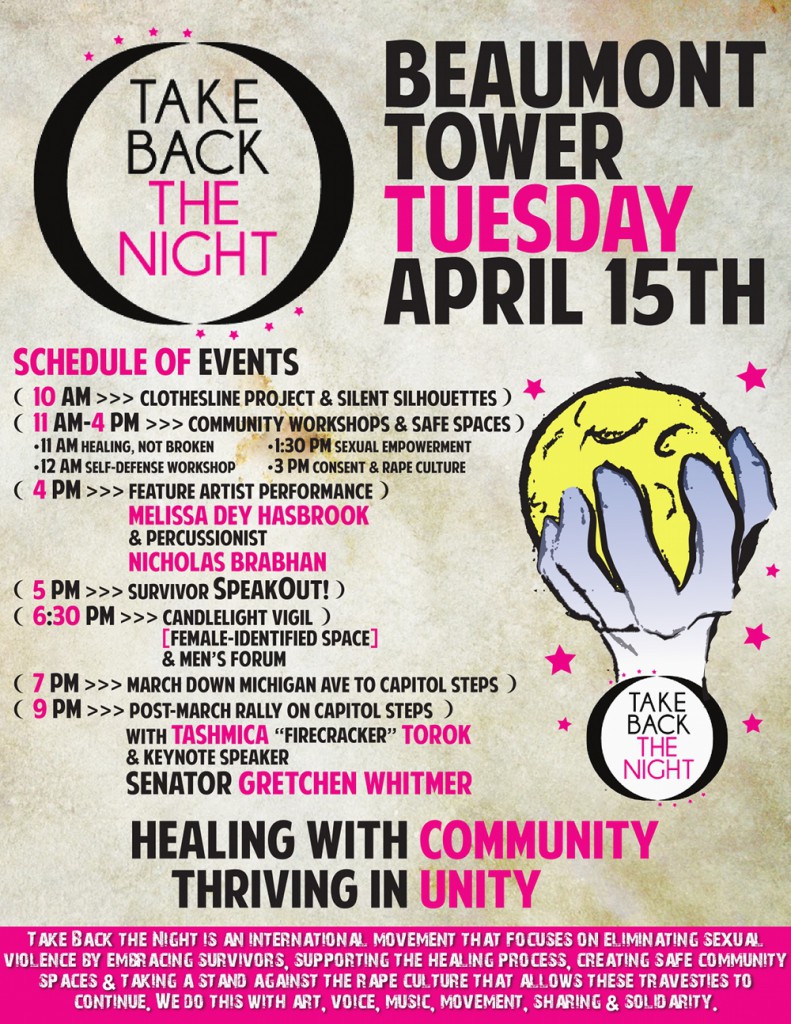 Take Back the Night of Greater Lansing takes place on April 15, on the campus of Michigan State University, and concludes with a march to the State Capitol. It's an honor to be featured and to perform with Nick again. Join us at 4:00pm for "The Beat, The Word, & The Body" at Beaumont Tower. (For the full-sized event flyer, just select the image to the left.) Please consider making a donation to this grassroots campaign via GoFundMe, which also supports my public work as a survivor-activist.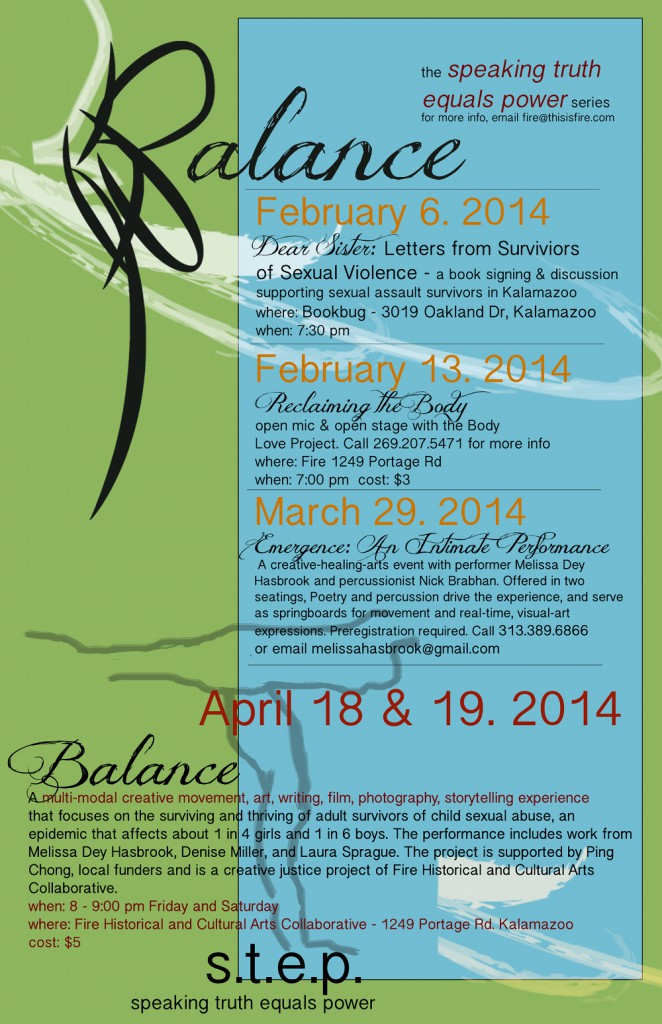 "Balance" is an intermodal performance with artists who are adult survivors of sexual violence. Shows take place at 8:00pm on April 18 and 19, at Fire Historical and Cultural Arts Collaborative, Kalamazoo. Also, art work exhibited will expand upon the Art Hop debut of April 4.  I am honored to perform alongside the very talented and inspiring Laura Sprague of The Body Love Project and Denise Miller, co-founder and Board member of Fire.