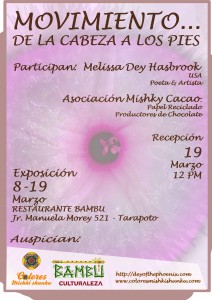 Greetings from Peru! Yes, I still am close to the equator. It's exciting to share my artistic debut in this part of the world. "Movimiento … De la Cabeza a los Pies" opened on March 8 — International Women's Day — and is hosted by Colores Mishki Shunku at the restaurant and hostel Bambu (neighborhood Suchiche). The reception concludes the show on March 19 at 12pm.
In deciding to stay longer in Peru, I headed South again from the Upper Amazon in late February. Thanks to everyone at The Healing House of Cusco for an exceptional commitment of care for in-house and local residents. As I prepared for exhibition, I was so impressed by this community's integration of creativity and spiritual practice that I plan to return in the coming year!
Thanks to Jesu Guzman for the poster design.