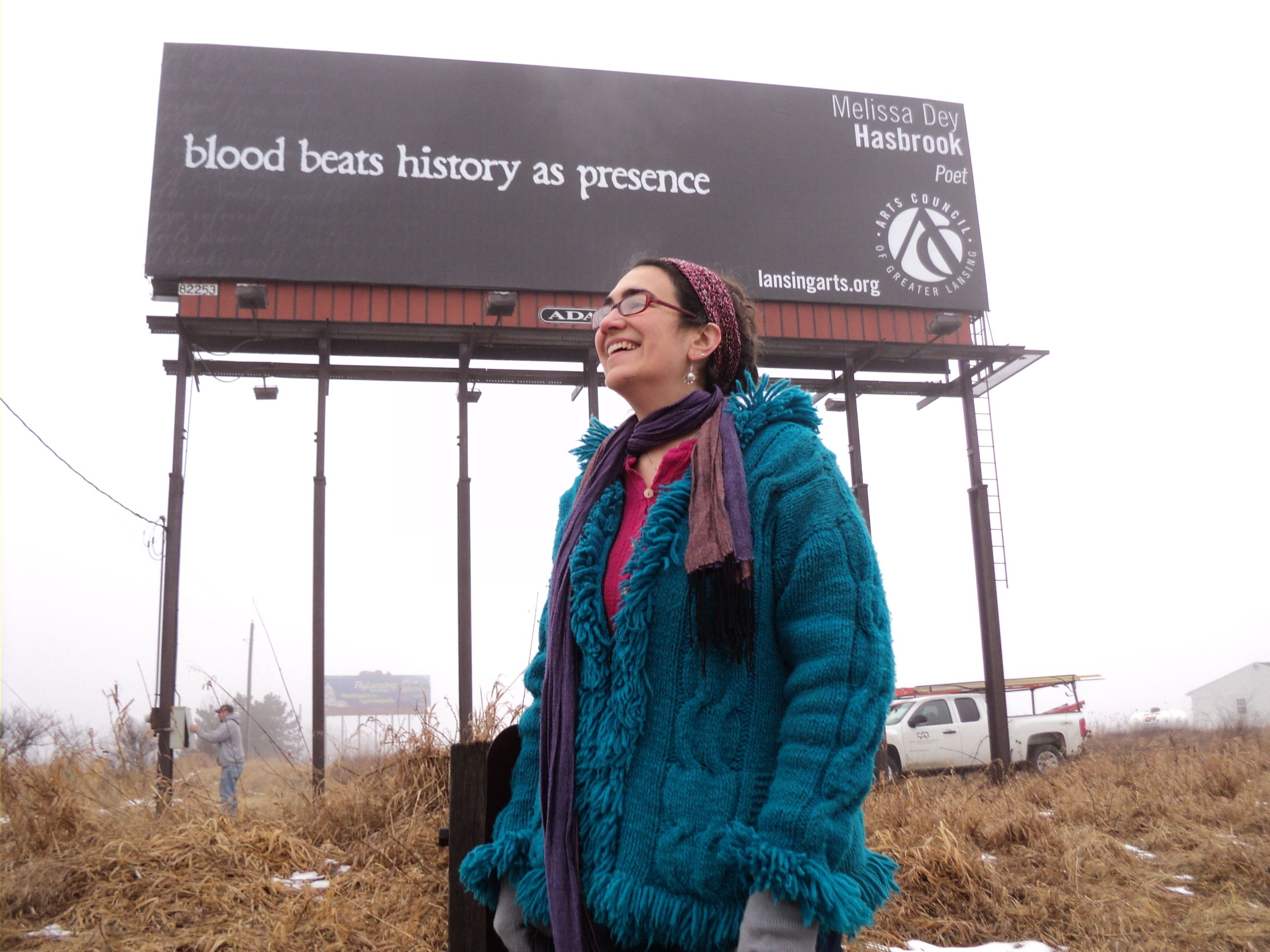 This morning I watched my words stretch across a billboard! As a recipient of the Arts Council of Greater Lansing's Emerging Artist Grant (2011), I was eligible to take part in this promotional program, a collaboration between the ACGL and Adams Outdoor Advertising. The billboard is located on Westbound I-96, after Exit 86 for Wright Road and just before Exit 84 for Eagle. Here's a map of the vicinity.
The line "blood beats history as presence" comes from the poem "A Concise History," published in my collection "Circle. . .Home" (2011). A photo album of the installation is available here on Flickr. I was delighted to see that the billboard's location is near Clark Road, the same road on which the family farm had stood, the words being several miles west of my hometown DeWitt, Michigan.
In addition to this joyful announcement, I am glad to mention that the free writing program Embodying Our Nature, presented by The HerStories Project, begins tomorrow, February 17, and continues February 18, both days taking place at Gone Wired Cafe (2021 E. Michigan Ave.) of Lansing. We are joined by Allegra W. Smith, representative of our event partner the Michigan State University LBGT Resource Center; writer Dawn Comer traveling from Defiance, Ohio; artist/ yoga instructor Julia Brown; naturalist/ musician Barb Barton (Friday) of Where the Wild Foods Grow; spoken-word artist Jan de la Torre (Saturday), and more! Check out this HerStories blog post for details about contributors.
Also, Monday, February 20, is the second and last free collage workshop for "Words and Afterwards," which takes place in the Art Studio of the Residential College in the Arts and Humanities at MSU, thanks to our project partner the RCAH Center for Poetry. Follow this link to learn more about the session, which explores violence and healing through creative expression.