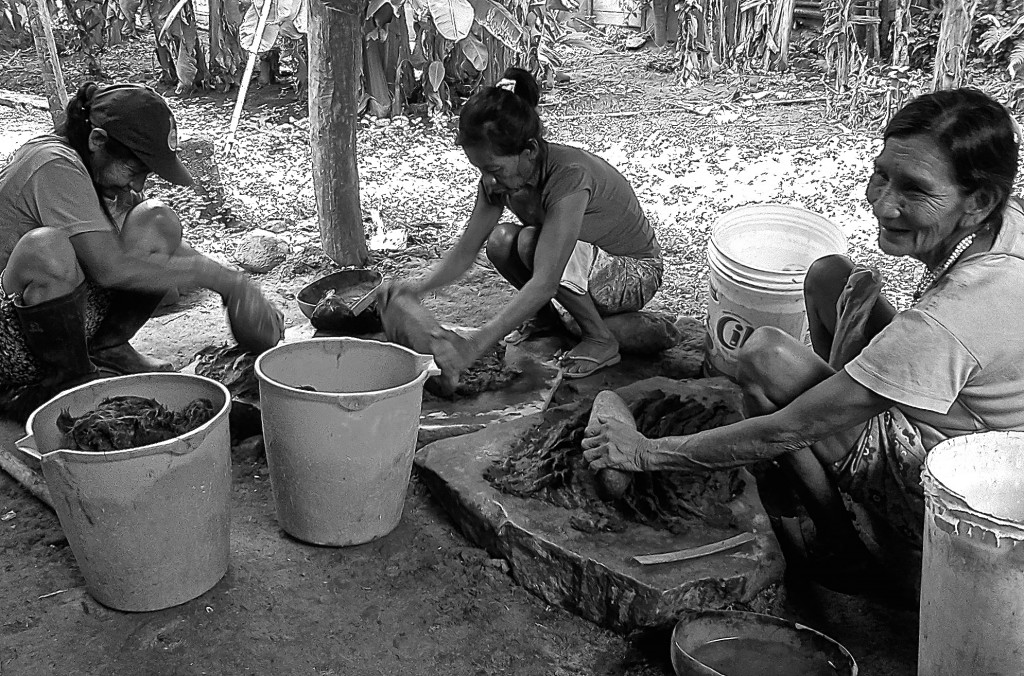 Come meet women artisans of Perú! In the gallery published below are new images, by far and large, for this site from my first travel to Peru, December 2014 to April 2015. An important focus of that travel was meeting these talented hardworking groups. In part due to the proximity of my artist residency, I spent more time with paper artisans of Chazuta in the Upper Amazon than the fiber artists of Juli in the Andes.
Thanks to occasional help from English speakers and my own modest Spanish, I was able to inquire how each circle summarizes what it's like to be a woman artisan in Peru. The theme for Chazutans was "igualidad"/ equality, and for the Andeans "alegria"/ joy. With my exhibition "Movimiento/ Movement", I have started a project exploring creative and cooperative processes of women.
While the paper makers and fiber artists are at opposite ends of Perú — from an equatorial climate to one of the most elevated in the world — both circles are connected. Movimiento Manuela Ramos, Perú's veteran national feminist organization, supports each group in distinct ways. I extend gratitude to MMR offices in Lima and Puno for sharing generously about their advocacy work and the program Casa de la Mujer Artesana/ House of the Woman Artisan.
In "Movimiento/ Movement", the photographic series "Por a Mano/ By Hand" features the artisans I met at their handiwork. I debuted this series in Tarapoto, Peru, at the exhibition's initial showing. Now a new arrangement of the series is part of the exhibition at AA Creative Corridor in Lansing, Michigan: arranged on banana-tree paper made by the Chazutan artisans, which I sourced from the Lima store of Casa de la Mujer Artesana (MMR).
The dialogue on creative industry this Wednesday, July 22, from 1:00pm to 2:30pm, is inspired at my end because of meeting these artisans and learning about the program connecting them with each other. Please join the dialogue at AA Creative Corridor with my exhibition and special guests:
*Kelli Hatfield, Director of the High School Diploma Completion Initiative at Lansing Community College;
* staff from the Arts Council of Greater Lansing — Josh Holliday, Program Manager, and Dawn Gorman, Communication and Events Manager;
* and Sandra L. Cade, artist and Assistant Clerk for the Greater Lakes Regional chapter of Fellowship of Quakers in the Arts.