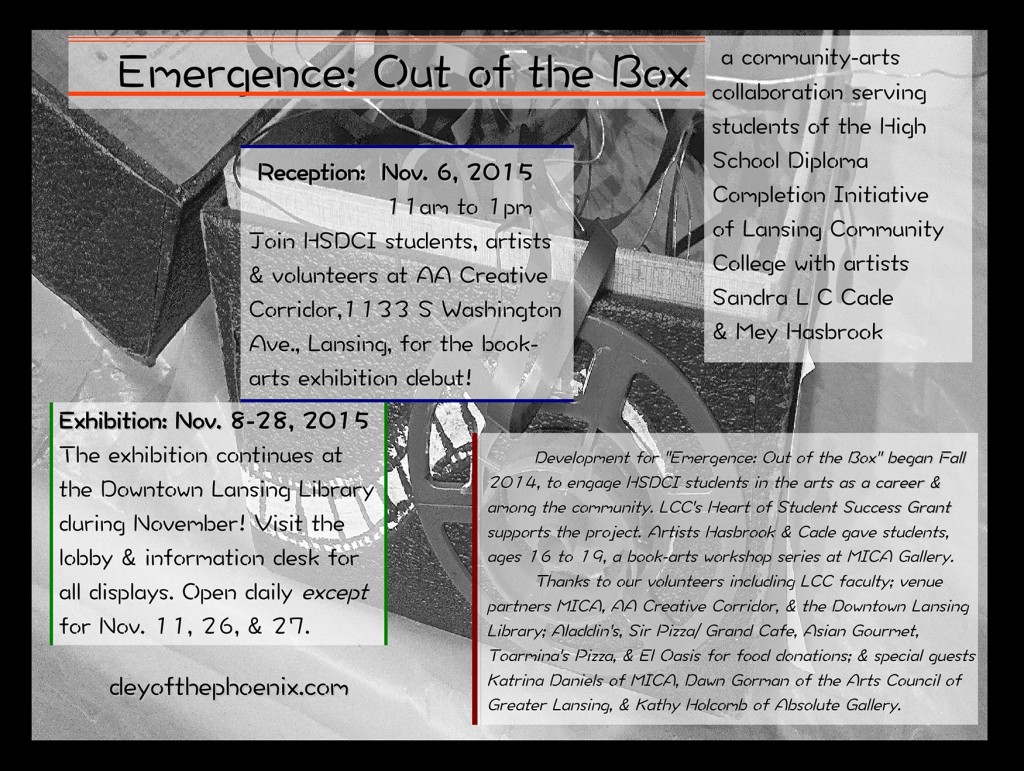 Recently, I blogged about my creative exploration of the theme "emergence" since 2013. From poetry to performance to book art, I envisioned a community-based exhibition to culminate the experience. Now the Greater-Lansing collaboration Emergence: Out of the Box is fulfilling that aim! The project began taking shape Fall 2014 to serve students of the High School Diploma Completion Initiative of Lansing Community College, and was awarded LCC's Heart of Student Success grant.
Sandra L C Cade and I co-led a book-arts workshop series at nonprofit MICA Gallery of Old Town. Teams transformed found objects — or everyday items — into works of book art. Now we are readying the exhibition at AA Creative Corridor of REO Town with students. Our reception is Friday, November 6, from 11am to 1pm! Please join us.
Around 27 first-term students, ages 16 to 19, from HSDCI participated. The sessions were supported with volunteers including LCC faculty. Stay tuned for a full acknowledgement of these helpers! Thanks to local restaurants for generously donating our lunches:  Aladdin's, Sir Pizza Grand Cafe, Asian Gourmet, Toarmina's Pizza, and El Oasis.
Here is the first "behind-the-scenes" gallery. See select objects before and during workshops; some of our beloved volunteers; and we artists imaging the exhibition at the Downtown Lansing Library to be on-site Nov. 8 to 28; !